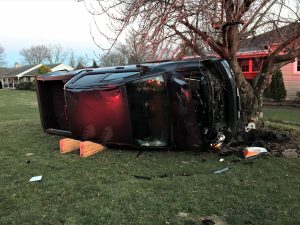 At 1910 hours Company 95 was dispatched to the area of Reading Avenue and North Sunrise Lane for a vehicle into a tree which was upgraded to with entrapment. On location Crews found that there was a rollover and it was confinement not entrapment and the occupants were able to self extricate before arrival. This was a two vehicle crash with multiple occupants involved, crews assisted Boyertown Ambulance
EMS with patient care and stabilized the vehicles. Crews then assisted Douglassville Auto Body with the removal of the vehicles and clean up of debris and fluids.
Douglass Township Police are investigating the crash.