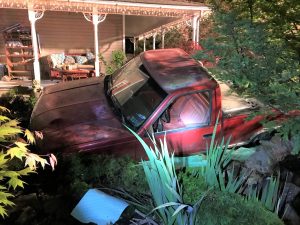 Company 95 was dispatched at 2217 hours for a vehicle towing a boat into a residence at 587 Colebrookdale Road. On arrival crews found a pick up truck towing a boat into the yard and the truck was submerged in a small pond leaking gasoline into the water which flows into a small stream. Crews immediately notified Berks DES and began placing Haz Mat booms and absorbent sheets to control the spread of the leak. Company 95 cleared the scene after midnight.
Crews then assisted Douglassville Auto Body with removal of the vehicle and boat.
Douglass Police are investigating the crash.